Lots of things to talk about today!
I bought the Barrier Repair Baby Moist Lotion (Moist) ages ago and I am on my second bottle, so you guys should be able to tell that I like it!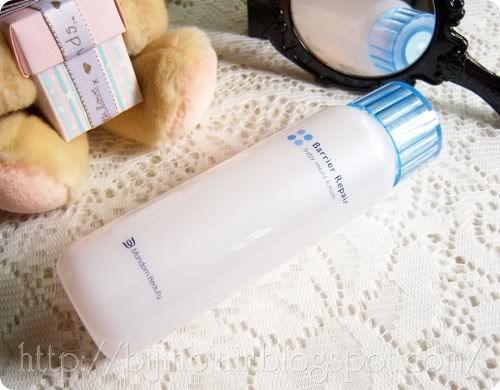 Name: Barrier Repair Baby Moist Lotion (Moist)
Price: RM 34.90 for 180 ml
@cosme rating: 3.8

★


Release date: 25.2.2008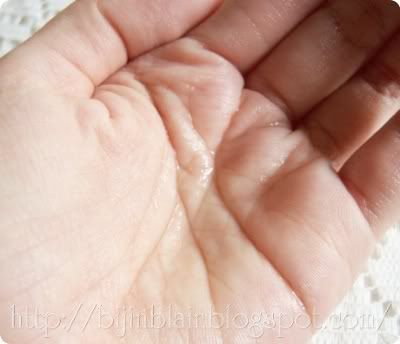 Baby Moist Lotion is hypoallergenic, fragrance free and preservative free. Its main selling point is the formulation penetrates quickly and moisturizes your skin with hyaluronic acid for a baby smooth finish.
It does absorb quickly and leaves no sticky film. It moisturizes quite well although it does not completely cure my dehydrated patches PLUS it can be doubled as a quick mask, as with all face lotions (化粧水).
I felt rather bored with Kao Asience, I have been using their shampoos ever since they were introduced a year back and so I jumped ship when I saw Ichikami in the pharmacies!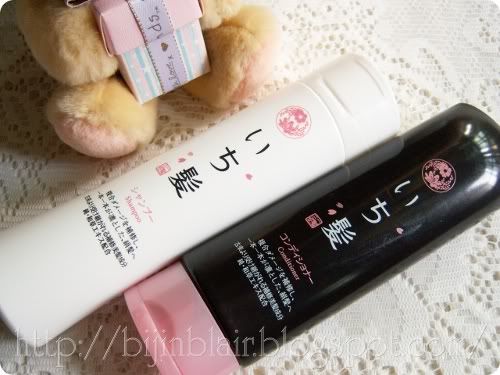 Name: Kracie Ichikami Shampoo and Conditioner
Price: RM 19.80 for 200 ml each

Both the shampoo and conditioner contain Japanese herbs such as Hiougi (Belamcanda chinensis), Camellia extract, Soapberry, Walnut oil, Yusuru essence, Yusuru oil, and Yusuru Lipid to repair and moisturize damaged hair.
I read somewhere that it has a cherry blossom scent... I have never sniffed cherry blossoms, I will definitely have to take that with a grain of salt. Nonetheless both of them do smell pleasing to me.
I have been using it for two months now, and my hair does feel soft but it is not moisturizing enough. I guess I will have to try their treatment!
Lancôme's Teint Miracle foundation received a glowing review from Kevin 老師 in the September 21st episode of 女人我最大. When I found out that all Lancôme counters nationwide offered samples of this particular foundation, I quickly snapped one up!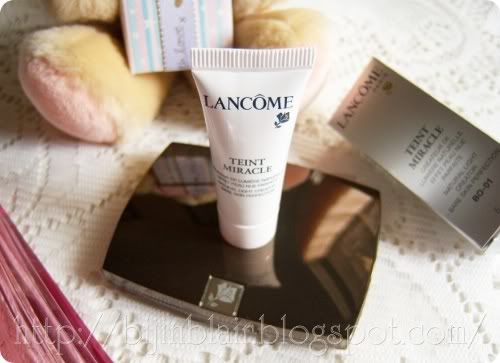 Name: Lancôme Teint Miracle SPF15 PA++ BO-01
Price: RM 130 for 30 ml
@cosme rating: 5.0

★


Release date: 20.8.2010
Lucky me was matched with BO-01 (left), which has way more yellow undertones than Maybelline's Angelfit Flawless Natural Liquid Foundation W02 (right), as shown in the swatches below.
The full sized bottle.
Teint Miracle has a sheer coverage no matter how much you layer it on. It is easy to blend and initially I thought that BO-01 would be too pale for me, but once on my face it made me look a tad tanned (o ω O)
I thoroughly like the finish, it gives a dewy look that is very natural. It feels really nice on, it is very light and does not cake in my marionette lines after a whole day out, however it does pool slightly around my nose.
Will I recommend Teint Miracle? No, its weird colour adjusting ability does not sit well with me.
I was organizing the contents in my drawer when I noticed that I have an eyeshadow quad that looks almost exactly like Lavshuca's Light Mix Eyes in BU-1.
Here they are together. Lavshuca BU-1 is on the left.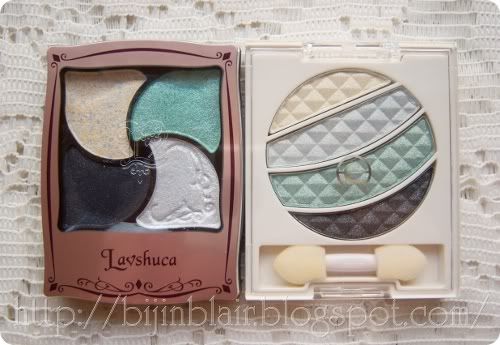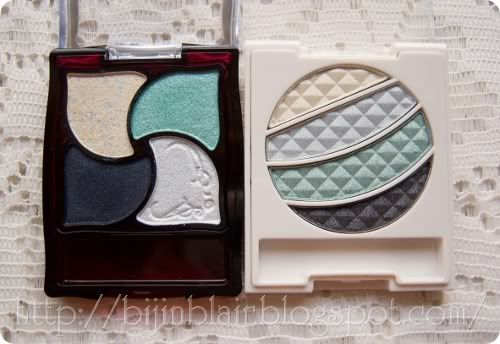 Swatches in same order.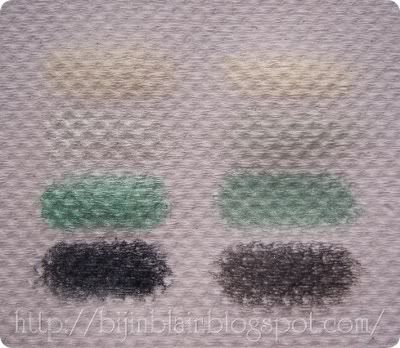 Lavshuca is more vibrant but other than that, the other quad is an almost exact dupe!
A box of Japanese confectionery from napajapan.com came in sometime last week.. I wanted to wolf everything in one setting but I persevered *yay for will power* First up for review are Oreo chocolate apple and macadamia bars!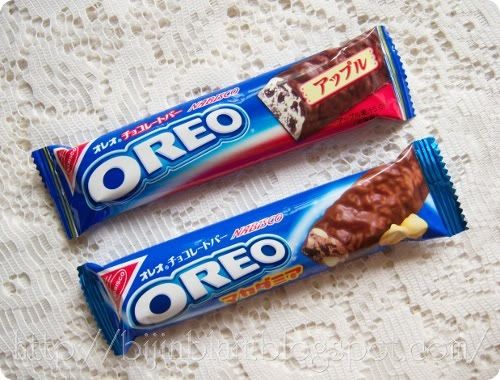 Name: Nabisco Oreo Chocolate Apple Bar
Price: US$ 2.99 for 36.5 g
Calorie content: 202 kcal
Release date: 13.9.2010
Regular chocolate bars are too sweet, I get a little sick of them after a while.. This apple flavoured bar is the complete opposite, I find myself devouring the entire bar within seconds!
It is only the
slightest
bit sweet, as the addition of the sour apple juice powder (from Aomori Prefecture if I may add) balances the sweetness to a tolerable level and makes it taste very refreshing. It is so different from the teeth-achingly sweet chocolate bars sold in Malaysia!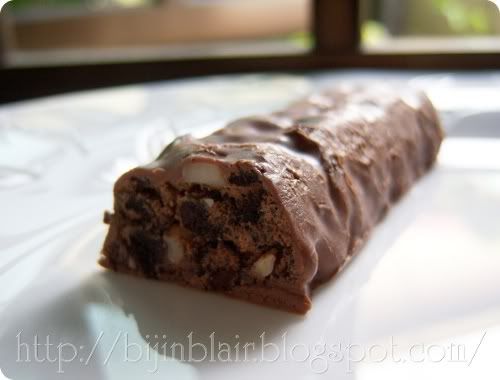 Name: Nabisco Oreo Chocolate Macadamia Bar
Price: US$ 2.75 for 38 g
Calorie content: 222 kcal
It is a crispy bar crammed with chunks of macadamia nuts. The infusion of macadamia nuts blended in perfectly with the chocolate and Oreo filling. It is definitely sinfully rich and satisfying without being over the top sweet.
If you are into macadamia nuts and chocolate, this chocolate bar is for you! I am not a fan of nuts, and yet I enjoyed this bar a lot! (o ω O) ← very obvious that I do not discriminate when chocolate is in question hahaha.
Hope that was interesting! Have a good Tuesday everyone (^ ω ^)