This is the third entry in my never-ending quest for more Kit Kats!
Milk Coffee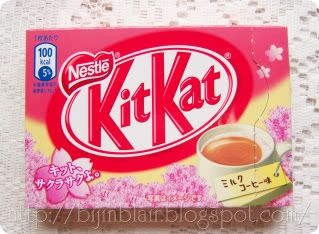 Name: Nestlé Kit Kat Milk Coffee
Price: ¥ 126
Contents: 18 g × 2
Release date: 21.12.2009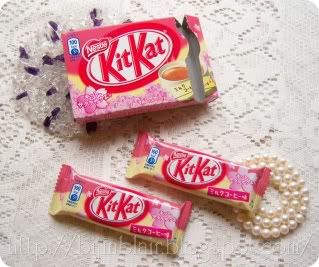 The release of this Kit Kat was timed to correspond to the examination period in Japan. The iconic pink flower even has a message for the students – kitto sakura saku yo!
I drank my share of instant coffee a while back (no longer, I'm a water girl these days) and this tastes exactly like instant coffee mixed with milk~ The bitter coffee taste doesn't kick at once, it took a while for the milk with coffee taste to turn into full blown coffee with milk taste. Umm, did it make sense? Haha!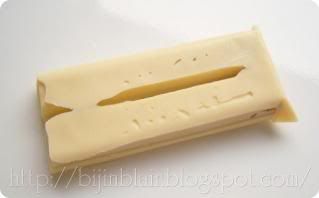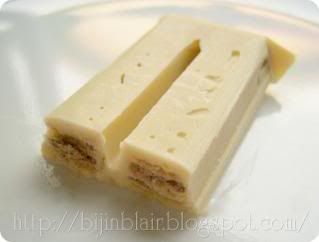 Tan bars.. this colour reminds me of the Royal Milk Tea ones!
Sakura Matcha/ Cherry Blossom Green Tea
Name: Nestlé Kit Kat Sakura Matcha
Price: ¥ 126
Contents: 18 g × 2
Release date: 1.3.2010
Ample space at the back for you to deliver an encouraging message to someone
On the package, it says that this flavour contains 0.5% sakura leaf extract and uses real Uji matcha. Sakura Matcha is a limited seasonal release.
The rich flavor of green tea combined with cherry blossoms makes this Kit Kat smell so soft and fragrant. Sadly, it tasted weird, I couldn't pinpoint the taste at all o.O It definitely was not green tea or even sakura → okay, I have never tasted anything sakura so it might be sakura afterall ;D
I feel slightly disappointed because I expected so much more from it. I'm probably influenced by the beautiful packaging and the fact that I adore anything matcha *pouts*
Unique green fingers!
Semi Sweet
Name: Nestlé Kit Kat Semi Sweet
Price: ¥ 105
Contents: 18 g × 2
Release date: 15.3.2010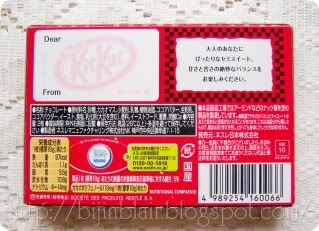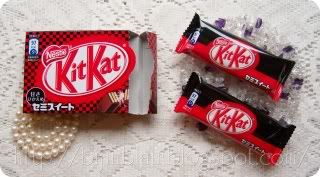 Semi Sweet has the perfect dark chocolate balance as it isn't too sweet nor too bitter. It tastes and smell exactly like how I like my dark chocolate to be. Delicious!
It is a little dryer than the other Kit Kats and the proof is in the pictures below. You can see that it is solid and it didn't melt from the heat at all compared to the other flavours.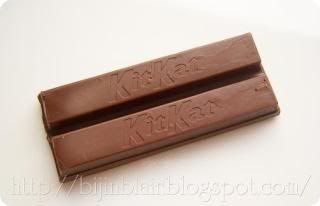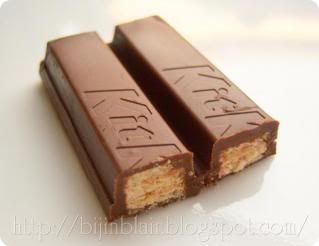 Yum, I love my dark chocolate!
Framboise/ Raspberry
Name: Nestlé Kit Kat Framboise
Price: ¥ 126
Contents: 18 g × 2
Release date: 12.4.2010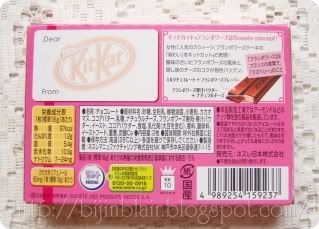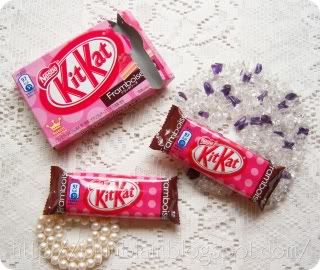 Framboise has the mouth-watering aroma of a cake shop =]
It has a hint of sourness from the raspberry and the inner creme between the wafer also tasted like rich cream cheese. They go so well with the milk chocolate outside, such a dreamy and delicious ensemble!
This is my favourite flavour by far
♥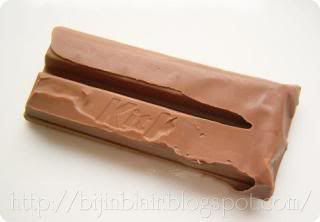 I need more~~
Did I create any cravings? ;D