I found a superb replacement for my Caudalie Vinoperfect Complexion Correcting Radiance Serum. I did not notice anything special about the Caudalie serum (except for the price ;D) especially when it leaves me with a sticky afterfeel.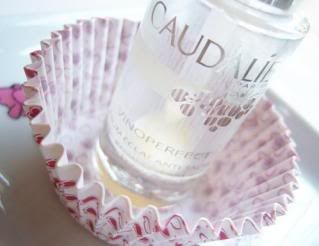 Derma Brightening Complex definitely succeeded where Vinoperfect Complexion Correcting Radiance Serum failed and at a more affordable price too. It is excellent for all skin types including sensitive skin.
Name: Cellnique Paramedical Derma Brightening Complex
Price: RM 149 for 30 ml
Description
: Formulated with exclusive Triple Action Melano-Targeting technology, this strongly effective yet gentle formulation works excellent on skin discoloration, dull and uneven skin tone, restores skin's luminous glow without provoking any skin irritation or peeling. Unprecedented clarity radiates from within.
Packaging
: White opaque plastic bottle with a dropper. I love the dropper lid, it is very convenient and hygienic.
Scent
: A sweet yet acidic scent.
Texture
: This pale yellow liquid has a light silky texture.
Two droplets are adequate for my entire face. I apply it on my U-zone (where my hyperpigmentation is concentrated), and smooth the leftover essence over the rest of my face. Five minutes is more than enough for my skin to absorb it completely.
I noticed that my face looks more radiant now! This brightening effect became noticeable by my third week and I am hoping that it would become more pronounced *greedy laugh*
I am not too fussed about the
works excellent on skin discoloration
claim... my hyperpigmentation (mostly caused by acne and they are not age/sun spots) usually take around two years to fade. But here are some before and after pictures for comparisons sake:
Right cheek
Left cheek
Not bad for four weeks of consistent usage yes?
The Derma Brightening Complex is a booster, so I use this after serum and before moisturiser.
Ingredients
: I am assuming Vitamin C, Lactic Acid and Kojic Acid to be the components in the Triple Action Melano-Targeting technology. Vitamin C inhibits melanogenesis (process where skin cells produce melanin/pigment), Lactic Acid exfoliates dead skin cells while Kojic Acid works as a whitening agent.
Purified Water (Aqua), Sodium Hyaluronate, Ethoxydiglycol, Vitamin C (L-Ascorbic Acid), Butylene Glycol, Glycerin, Lactic Acid, Kojic Acid, Polyvinylpyrrolidone (PVP), Hydroxyethyl Cellulose, Diazolidinyl Urea, Methylparaben, Sodium Hydroxide, Propylparaben, Willow (Salix Nigra) Bark Extract.
Repurchase?
YESSS
!!!
What do you use for a radiant, scar-free skin?
Disclosure: Press sample.