I was thumbing through the February issue of Popteen when I saw a super cute range of eye makeup!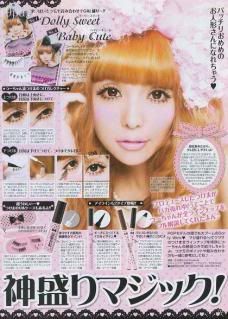 Isn't it so pink and girly?
I immediately googled for more information - it seems that Tsubasa Masuwaka, a former Popteen model collaborated with Koji to release this range, and it is named Dolly Wink! It is quite a new line as it was only released on 24th November 2009.
I would say that the false lashes are the star of Tsubasa's Dolly Wink lineup~
Name: Dolly Wink Eyelash
Price: ¥ 1,260 each
@cosme rating: 3.7 - 5.1

★


Release date: 24.11.2009
I adore N°3 Natural Girly! Visual wise, N°5 Real Nude takes the cake. What are your opinions? All eight images are clickable =D
As usual, the images in the scan are super tiny so here are bigger ones for you girlies to drool over =P
Name: Dolly Wink Liquid Eyeliner
Price: ¥ 1,260
@cosme rating: 5.0

★


Release date: 24.11.2009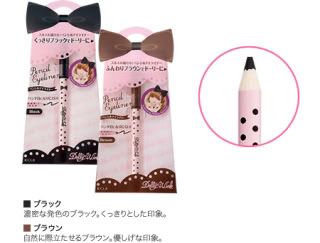 Name: Dolly Wink Pencil Eyeliner
Price: ¥ 945
@cosme rating: 4.2

★


Release date: 24.11.2009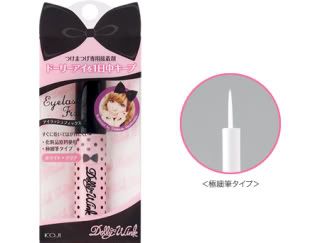 Name: Dolly Wink Eyelash Glue
Price: ¥ 945
@cosme rating: 3.7

★


Release date: 24.11.2009
I have updated this post with the nail collection:
Name: Dolly Wink Smooth Cover Base Coat, Glossy Top Coat
Price: ¥ 546 for 4.5 ml
@cosme rating: 3.7 and 4.0

★


Release date: 1.7.2010
Name: Dolly Wink Nail Color
Price: ¥ 546 for 4.5 ml
@cosme rating: 4.6

★


Release date: 1.7.2010
Name: Dolly Wink Glitter Nail Color
Price: ¥ 588 for 4.5 ml
@cosme rating: 4.6

★


Release date: 1.7.2010
Anyone tempted to snag some products up? ;D
(Source: All images except for the magazine scan are from koji-honpo.co.jp/tsubasa/)